Current Featured Artist
Susan R. Kirshenbaum
GRAPHIC NUDES - THE POSTER SERIES
The work being shown at the Rite Spot Cafe consists of a handful of pieces from my in-progress poster series. Always a child of the 60's, I've been making poster art for a long time. Now I've produced a group of these bold graphic works for this show from my on-going drawing practice. I often create several editions from an initial drawing and this is the "original version" before I add layers and photos. This is my leanest, cleanest, most serigraphic-style figurative statement. These are my trademark quick gesture drawings (up to 10 minutes). I think they are deceptively simple.
These are "digital originals" created by drawing directly onto a tablet. They are limited edition fine art prints on archival paper (editions of 10). All work is for sale. Each 16 x 20 inch framed piece is $250. To order additional sizes of custom prints or to commission new work: srkirshenbaum@gmail.com
---
Past Featured Artists
Spirit Boats: Paintings by Jennifer Ewing
Jennifer Ewing has worked with the theme of Spirit Boats since 2005 as a way to navigate the unknown. The Spirit Boat is a timeless symbol and can travel through all elements with ease. It is a cross-cultural metaphor for movement and transcendence.
Her art at the Rite Spot includes her latest paintings in a new "Crying Ice" series and model kayaks and canoes that hang from the ceiling. Her paintings, drawings, prints, sculptures and installations have been exhibited in various local venues for decades.
She often works with recycled plastics in her sculptures in her nearby Mission district studio where she also leads workshops and drawing classes.
Reception: 8:30pm July 21st, 2018
---
Like Gravity: Paintings by Suzanne Forrester
This particular collection can be read as a dance, or even zoetrope, a precursor to film. A moment, expanded and contracted, outlining the curves of some mental glitch; the well worn pathways and synapses where the record skips.
On the cusp of realism and abstraction, the work is mostly figural in nature and concerned with matters of the heart. The paintings are woman-centered, intuitive and introspective.
Exploring the body as landscape and drawing subtly from early women writers, they carry hints of rainy moons and yellow wallpapers, bright minds and nervous dispositions too often walking into rivers pockets laden with rocks. An incantation, if you will, to reverse the spin.
A primarily self-taught artist, Suzanne is an acupressure massage practitioner and tutor for children on the autism spectrum.
www.suzanneforrester.com
suzannemassages@gmail.com
---
Patricia Hewett
The Trona Pinnacles, Owens Valley, Valley of the Gods, and Hovenweep National Monument, are but a few of the many places that have inspired these and other recent landscapes.
These gouache paintings employ techniques similar to those used in printmaking, Japanese suminagashi, and Turkish Islamic ebru painting.
Patricia Hewett received her BFA in painting from the University of Kansas after undergrad studies at the University of Kansas in Lawrence, KS and the University of Reading in England. Her work has been exhibited in Lawrence KS, Austin TX, Brooklyn NY, Los Angeles and San Francisco.
---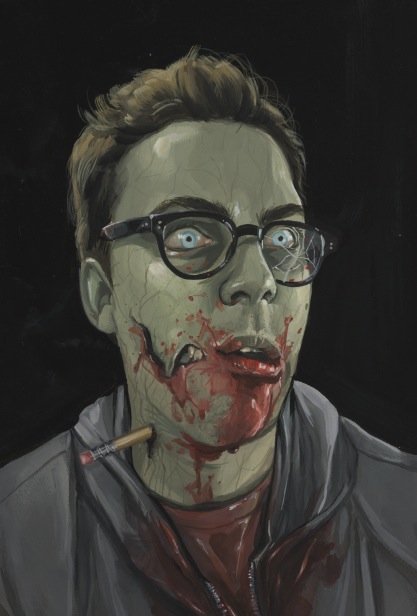 Wednesday Kirwin
Wednesday splits her time between designing, writing, illustrating and painting. Wednesday has been a product designer for the company, Gamago, since 2009. She has written and illustrated several of her own children's books including, "Nobody Notices Minerva", and "Baby loves to Rock" and has worked on other memorable classics including "The Night Dad Went to Jail" and "Yeti, Turn out the Light!". Wednesday's fine art has appeared in galleries in San Francisco, Los Angeles, Seattle, and New York. Originally from Duluth Minnesota, Wednesday now resides in the Bay Area with her small dog, Nemo.
---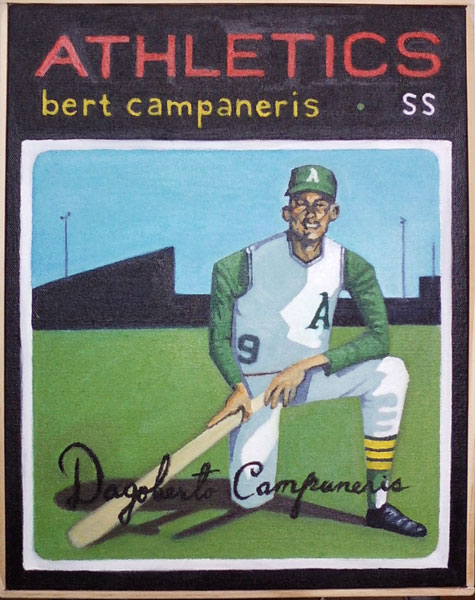 John Everett
John Everett graduated from Rhode Island School of Design in 1988, and he has been painting and drawing for little or no profit ever since. Much of his work is based on photos from decades past, much of it related to blues and jazz, reflecting the artist's strong interest in music and its related imagery. He primarily works in acrylics, though a recent baseball-related series, included in the current show, was done in oils.
Another recent departure is represented by a series of mostly smaller abstracts. Although the artist has dabbled in this realm previously, these newer abstracts represent a more conscious effort to loosen up and investigate line, form and color on a more basic level.
Mr. Everett's work is viewable here: www.zhibit.org/jeverett
---
Eileen Hodson
Bacho, Tanzania- Photographs
Artist Reception
Saturday October 8
6-8 pm
All proceeds from art sales to Karimu International (details below)
---
The Karimu International Help Foundation grew out of a vacation taken by Marianne Kent-Stoll and her husband, Don Stoll, in 2007. During a visit to the remote Tanzanian village of Bacho, they learned that Tanzania's government had threatened to close Ufani Primary School. When Marianne and Don, educators in Santa Cruz, California, asked if they could help, Ufani's teachers told them that the government demanded better toilet facilities. After the two Californians came up with a few hundred dollars to build a basic latrine and Ufani School remained open, the villagers invited them to return the following year with as many volunteers as they could find.
Marianne and Don then established the Karimu International Help Foundation—"Karimu" means "generous" in Swahili—to "provide funds to schools and other community projects enhancing the well-being of rural villages in the developing world."
This mission statement from Karimu's Articles of Incorporation suggests Marianne and Don didn't yet grasp the strength of the bond they had formed with—out of all the "rural villages in the developing world"—Bacho, Dareda Kati and its people. But the mission statement also shows that Marianne and Don never meant to limit Karimu's work to education.
How you can help:
Besides continuing the renovation and expansion of Ufani School, Karimu now pursues similar work at nearby Ayalagaya Secondary School as well as ongoing health care and water sanitation projects in Dareda Kati. These projects rely on the devotion of scores of volunteers, many of whom return to Tanzania every year because of their friendships with the villagers.
Volunteers will travel to Tanzania for the fourth year in a row in August 2011 because Karimu's commitment is for the long haul and its work is ongoing–in fact, the villagers themselves do nearly all that work during the fifty weeks out of the year when no one from Karimu is present. Evidence of the hard work the villagers do on their own is supplied by the fact that Ufani School's most recent graduating class achieved the fourth highest secondary school entrance exam scores in all of Tanzania. This is important because Tanzanian children who fail the secondary school entrance exam are done with school forever.
During the last four months of 2011, in 2012, and beyond, funds will be needed to: build more classrooms and teachers' quarters at Ufani and Ayalagaya Schools;
Install a clean water system for Ufani School;
Support village nurses and traditional midwives in their determined efforts to bring better healthcare to mothers and small children.
Donate here to Karimu Pay Pal
---
The show will be displayed through December 8th, 2011
---
Kira Lynn Cain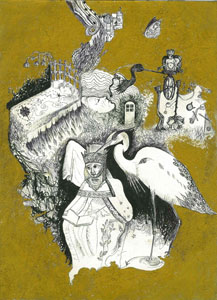 Court Sketches From the New Frontier:new work by Kira Lynn Cain
Inspired and informed by my recent move to the gold rush town of Nevada City, California. I've set out to make court sketches of the flora, fauna, astronomy and iconography of my new frontier. The phantasmagoric imagery in my recent dreams, near the window to the wild west, is personal, from the mirror. Detailed drawings of the psyche. http://allaremirrors.blogspot.com/
Artist Reception Sunday June 5th
show through Friday August 5th
Danny Plotnick
www.dannyplotnick.com
dannyplotnick@sbcglobal.net
Danny Plotnick is best known as a filmmaker. His work has screened at festivals internationally, on MTV, The Independent Film Channel, and at the MOMA in NYC. His films are available on a DVD entitled Warts & All: The Films of Danny Plotnick, which is available from Netflix. His films are a laugh riot, filled with oddball characters living on the margins of society.
His photographic work showcases a similar interest in a distressed and forgotten world. His photos breathe life into a landscape filled with rusting train cars, out-of -tune pianos, abandoned houses, and mirrored balls that have lost their luster. Even his abstracts, featuring silt-filled lakes, find beauty amidst the murk.
2nd Annual "Rock Show" photographic exhibit January 24-March 13
Rite Spot Café
2099 Folsom St. @ 17th
Opening reception on Saturday January 30
5:00 pm-8:00 pm
Featuring live rock show photography from Tiger Lily (KALX/JetLag RockNRoll), CAnderson (Victim of Time/Horizontal Action), Julie Zielinski, Charlie Homo, Deb Zeller, Julie Schuchard (Tricycle Records), Amy Thompson, Geoffrey Ellis (Sad Kids).
Featuring photos of Jay Reatard, The Mummies, Human Eye, The Drums (Dwyer and EZ), Wayne Kramer, M.I.A., Kiss, Jarvis Cocker, Mastodon, Nobunny, Film School and many many more.
---
Frenchman Charlie Homo is a San Francisco-based photographer specializing in portraiture and events. His style strips photography down to the gritty bone, unveiling a truth often hidden from the naked eye. His work strives to find the eternal and universal in the particular; finding in music subjects an unbounded source of Inspiration.
Tiger Lily experiences separation anxiety whenever she goes to a show without a camera; luckily, it hasn't happened much in the past 10 years. When she's not cuddling her Canon, she's working on her rock'n'roll travel guide, DJing on KALX radio, honing her ninja skills, or planning her next trip with Domokun.
Chris Anderson's (canderson) rock and roll, skateboarding and whatever else photos grace the guts and covers of magazines, books and brochures, from zeroxed to newsprint to fancy glossy print all around the world. Not too mention the multitude of 7" and 12" record covers and inards. Most infamous for his work with the now defunct Horizontal Action zine and currently with victimoftime.com rock and roll website. His live music stuff can be seen featured there. All genres and more can be seen at his perpetually "under construction" website.
International award winning photographer Debra A. Zeller lives and works in San Francisco. When she's not shooting a rock show or traveling the world, she can be found photographing weddings or composing lifestyle portraits for newlyweds, families and rock bands. You can find Debra's work online as well as in local and major media outlets.
Julie Schuchard has been a working photographer for over 15 years shooting in a range of mediums from Lomo, Holga and medium format to alternative processes and digital. Her training and education in fine arts informs the artistic process she applies to her work. Julie currently lives in San Francisco where for the last five years she has built a substantial body of commercial and artistic photography documenting the local music scene. As a music photographer, Julie's work has appeared in publications including The San Francisco Chronicle, Spin Magazine, Pitchfork, The Onion, SF Bay Guardian, SFist, SF Weekly, Loose Record and Six Degrees Magazine. Her client list includes mainstays of the independent music industry such as Noise Pop Industries, Rightround, Rough Trade Records and Universal Records. Julie is also the co-founder of Tricycle Records, an indie music label where she continues to work with musical artists both as a photographer and publicist.
Geoffrey Ellis is a photographer who went to school to be a graphic designer. His dad gave him his first camera way back in 1989, which he used until it was stolen from his car along with a full basket of clean laundry. He publishes a photo-zine called Sadkids, loves road trips, collecting junk and taking pictures.
Amy Thompson
Amy Thompson is an Oakland based photographer and musician who earned her BFA at Oakland's California College of the Arts (CCA) in 2005. Amy has since moved on to specializing in private events, and completing her personal artistic aspirations, as well as shooting and playing music. Although she enjoys being squeezed into the pit, or corralled into the barricade to shoot just about anything, she really strives to capture the types of music she can express her artistic ideas and emotions through.
Julie Zielinski
Julie Zielinski is a San Francisco based photographer and musician. She has been a staff photographer as well as associate producer for the Noise Pop festival for over 4 years. Her photos have been published in various publications including the SF Chronicle, the SF weekly, and 7X7.
Born and raised in New York City, Pierre Merkl worked summers at his father's 5 & 10 in Spanish Harlem, managed a bookstore in Greenwich Village and drove a taxicab. Following formal education at New York University and Windham college in Vermont, Pierre drove across the United States. In San Francisco, he did figure drawing full-time for two years, then began painting billboards and signs. He sought out his teachers including 60's Bay Area sculptor Richard Faralla; steel sculptors Charles Ginnever and Peter Forakis; the Bohemian Club's Arthur Palmer; the Leighton Sttudio with Alan McCorkle; and seminal pop artist Robert Dowd and his spouse, abastract painter Mara Devereux. His art education has been self-directed, combining selective instruction with studies at national and international museums.
A licensed private investigator, Pierre's conceptual figurative painting draws on his experience as a detective; his study of pre-twentieth century pictorial strategies; and a combination of Renaissance and abstract painting techniques. He has also gained considerable notoriety as a performance artist turned jazz singer, having appeared as "Mr. Lucky" in many California and New York venues, including that of panelist and performer at Lincoln Center.
Pierre Merkl's paintings have appeared in solo exhibitions at Newmark Gallery (2007) and ICAN Gallery (2005) in San Francisco, and at Asto Gallery (2006) in Los Angeles. He has shown in several group shows on the West Coast, including the Burning Man in Nevada; with the Brooklyn Waterfront Artists coalition (BWAC); and at the Hewitt Gallery at Marymount Manhattan, New York City.
Jessy Jones
Jessy Jones grew up in Nashville, TN and has lived in California since 1989. She studied photography at San Francisco City College for years until she transferred to SFSU last spring to complete her degree in Art Education. She's lived here in the Mission for the last ten years, filling her apartment with a collection of bunnies and chachkas of questionable repute. She works as a bartender and photographer, specializing in mint juleps, environmental portraiture and weddings.
Kelsey Knutson
Kelsey Knutson was born in California in 1981 and grew up in Birmingham, Alabama. She received her BFA from California College of Arts and Crafts in 2003. While earning her diploma, she briefly studied abroad in Paris, France. Since graduating she has maintained a studio in Berkeley. She has participated in a number of group shows around the Bay Area and in Germany. This is her first solo exhibit in five years.
"Rock Show"
Group Photo Show featuring:
C.Anderson (Victim of Time/Horizontal Action)
Tiger Lily (KALX/Jet Lagger)
Geoffrey Ellis (Sad Kids)
Charlie Homo
Julie Zielinski (Noise Pop)
Annie Southworth (Panache/Noise Pop)
Reception:
Sunday February 1st between 6-9
Show between February 1st and April 7th
Sweet Hollywaiians (from Japan) to follow @ 9:30
www.myspace.com/sweethollywaiians
"Canderson's pix have been seen in shitcans around the world. Every Horizontal Action fan had the scatological punk rag lavatorically posted for all friends, neighbors, and enemies to see as they squatted down on their porcelain thrones. The glue/noise/shit/no/Chicago wave newsprint dirtied their fingers with angry, obsessive writing and Canderson's angry, obsessive photos."
"Tiger Lily experiences separation anxiety whenever she goes to a show without a camera; luckily, it hasn't happened much in the past 10 years. When she's not cuddling her Canon, she's working on her rock'n'roll travel guide (www.jetlagrnr.com ) DJing on KALX radio, honing her ninja skills, or planning her next trip with Domokun."
Geoffrey Ellis went to school to be a graphic designer, publishes a photo zine called Sadkids, loves to collect stuff and loves taking pictures. In 2007 he won the Phelan Award in Photography. He has lived in Southern California, Florida and Memphis and currently resides in SF with his beautiful wife and a bunch of cats.
"Charlie strips photography down to the gritty bone. In this way he scratches out a truth often hidden from the naked eye—a truth obscured by reality. He's been steeped for years in the music industry, from London to New York, Paris to San Francisco. He's dialed into the scene and the scene—into him."
www.charliehomo.com
Julie Zielinski started taking photos while playing in the band staci twigg and feeling the need to multitask between sets as a means to avoid excessive alcohol consumption. Albeit it wasn't completely successful, she learned her way around cameras, crowds, and low light. She's been a Noise Pop photographer for over 5 years now and her work had been featured in newspapers, magazines, filers and in her very own living room.
Annie Southworth is a busy body. She's a talent agent at Panache Rock (www.panacherock.com/booking), a talent buyer at Noise Pop (www.noisepop.com), occasional promoter, weekend bartender, goofball, music enthusiastic with particular interest in the great, diverse, exciting as well as thriving San Francisco music scene.
Jennifer Brault
Jennifer explores multiple disciplines and is an accomplished painter, sculptor, and illustrator. Her work has exhibited in New York and San Francisco and she has nearly two dozen commissioned works throughout the country. Professionally, her tasteful eye beautifies many of San Francisco's Victorians through her work as a color consultant and painting contractor. Specializing in lifelike sculptural portraits, animal portraits, and murals, Jen brings wonderful depth and style to her work. Jennifer is originally from Rochester, New York, and currently resides in San Francisco, California.
Brigid Dawson Art Opening August 2-October 4; opening Sunday August 3 @ 5:00 pm with Ty Segall
These are a collection of portraits, done in gouache, acrylic, pencil, markers and carving on paper and wood by Brigid Dawson. They are about childhood things, family history, images to scare and please, the grotesque and the beautiful.
Brigid moved to San Francisco from London, 6 years ago. She also performs in San Francisco band, The Ohsees.
Jan Swearingen Paintings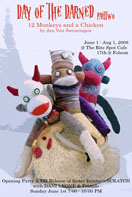 "Virtually untrained despite all her years at City College, Jan's art has always been a way to try to share the images that often seem to appear out of nowhere.
After years as a printmaker, Jan began painting at the urging of her mentor, Jenny Badger, a visionary painter and former instructor at City College. The ability to work large scale has been a freeing experience, allowing her to experiment and express herself in a more spirited way.
The work shown at the Rite Spot is all connected by the desire to express both the strangeness of her inner world and the one we all live in, warts and all."
A San Francisco Gallery
Rite Spot Cafe is also a gallery specifically for local artists. Not only does the art help create a unique and ever evolving environment within the cafe, but it's also available for purchase. The Rite Spot hosts a party the Sunday of each artist's opening. If you are interested in you art adorning the Rite Spot's walls, please email some photos of your work along with a written proposal of the show you have in mind to info@ritespotcafe.net.